Wherever the KORMARAN K7 appears it attracts everyone´s attention. At the 25th Anniversary Inaugural Gala Party of the Monaco Yacht Show invited VIP´s were admiring the K7 while walking down the red carpet. KORMARAN was also honored by the visit of Prince Albert II of Monaco. Designers, owners, representatives, captains and spectators were simply overwhelmed by the beauty of the beast. 
Prelimilnarily to the Monaco Yacht Show 2015 the maiden voyage of the KORMARAN K7 on the beautiful clear waters of lake Wolfgangsee near Salzburg (Austria) was successfully performed. This historic moment was filmed for documentation. Hundreds of people were witnessing the spectacular launch from the shoreline while wondering about the making of a new 007 movie scene.
Shortly after the first touch on water the K7 was transported to Monaco to be revealed directly beside the red carpet at the 25th Anniversary Inaugural Gala Party of the Monaco Yacht Show 2015. Many invited VIP´s inspected the K7 enthusiastically, creating interested discussions about the outstanding design and the sophisticated high-end technologies. It is self-explanatory, that the carbon fiber Formula 1 technology captured the essence of the genuine spirit of racing in Monaco. Superyacht experts admired the extraordinary design and the absolutely unique level of quality.
During the night the K7 was placed at the KORMARAN stand at Monaco Yacht Water Toys Show, Quai Rainier 1er. Just after the opening of the MYS Prince Albert II of Monaco visited KORMARAN. Although the Water Toys Show took place for the first time, so far unknown to regular visitors, passing traffic was very limited, KORMARAN attracted many owners, designers, representatives and captains who particularily came to see the K7. Even a renowned hydrofoil specialist from California visited KORMARAN more than once in order to discuss the America´s Cup hydrofoil technology in detail. Several visitors were thrilled having their expectations clearly exceeded, calling the K7 "Optimus Prime of water sports" exclaiming: "This is a true gift to the world.".
At last we stole the show.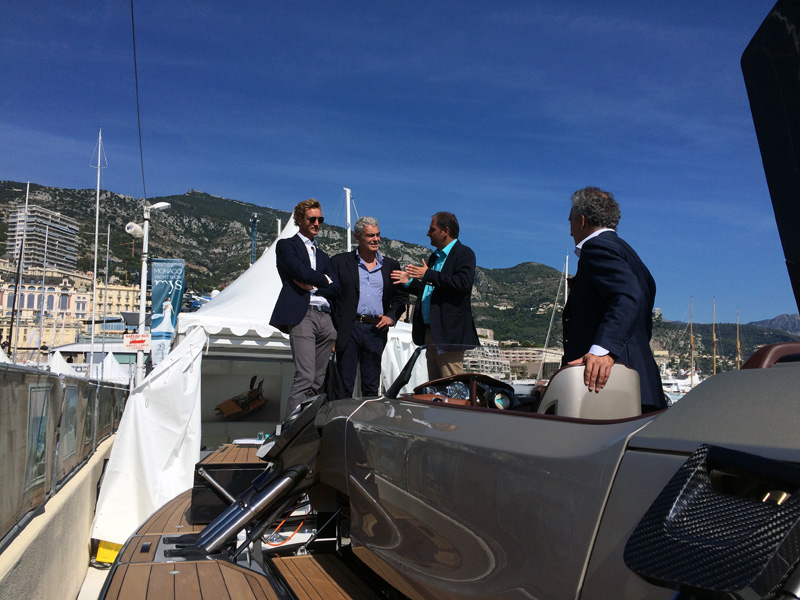 Some forward-looking designers were really thrilled about the personalisation possibilities for the Kormaran, not only changing colours of the futuristic design.
The Kormaran satisfies all requirements of comfort, high-tech, quality and even the demands of performance for sportsmen.
Pierre Casiraghi, President of the Yacht Club de Monaco, was especially interested in racing and regatta characteristics like manoeverability and acceleration.
AT LAST WE STOLE THE SHOW