Review of Monaco Yacht Show 2016
For the second consecutive time, KORMARAN was invited by the Monaco Yacht Show to become an exclusive partner for the 26th Inaugural Gala Party. The Hotel Hermitage honoured KORMARAN to showcase the KORMARAN K7 one full day in their Park at Square Beaumarchais front of the Hotel in Monte-Carlo on September 27th. Many of the over 500 high profiled guests congratulated KORMARAN for this extraordinary privilege.
The Inaugural Gala Party was held in the evening in the Salle Belle Epoque of Hotel Hermitage.
After the welcoming address by Gaëlle Tallarida, Managing Director of the Monaco Yacht Show, Shari Liu as Master of Ceremonies led through the show's award ceremony. In four categories an electic jury of yachting journalists evaluated which of the exhibited yachts should be awarded.
Oliver Kormann handed over the award for the "MYS Finest new superyacht 2016" on stage to Arthur Brouwer, CEO of Heesen Yachts and the well known naval architect and designer Espen Øino for their Yacht Galactica Super Nova.
KORMARAN welcomed super yacht owners and special guests in the Secret Garden, a very exclusive oasis in the Private Dining Room at the prestigious Yacht Club de Monaco. KORMARAN has been among a small number of selected experts who value the qualities of design, luxury, creativity, innovation, technology, service, and expertise.
Between Tuesday 27th September and Sunday 2nd October visitors could relax in this confiding environment and exchange ideas and thoughts with Oliver Kormann, the inventor and founder of KORMARAN.
His Serene Highness Prince Albert II of Monaco and Oliver Kormann had a personal conversation about the latest news and innovations of KORMARAN.
A more powerful engine layout is enabled due to newly developed hulls. Further improvements are new transmissions for all three propulsion systems. These enhancements are completed by a distinct exhaust cover including a ventilation system.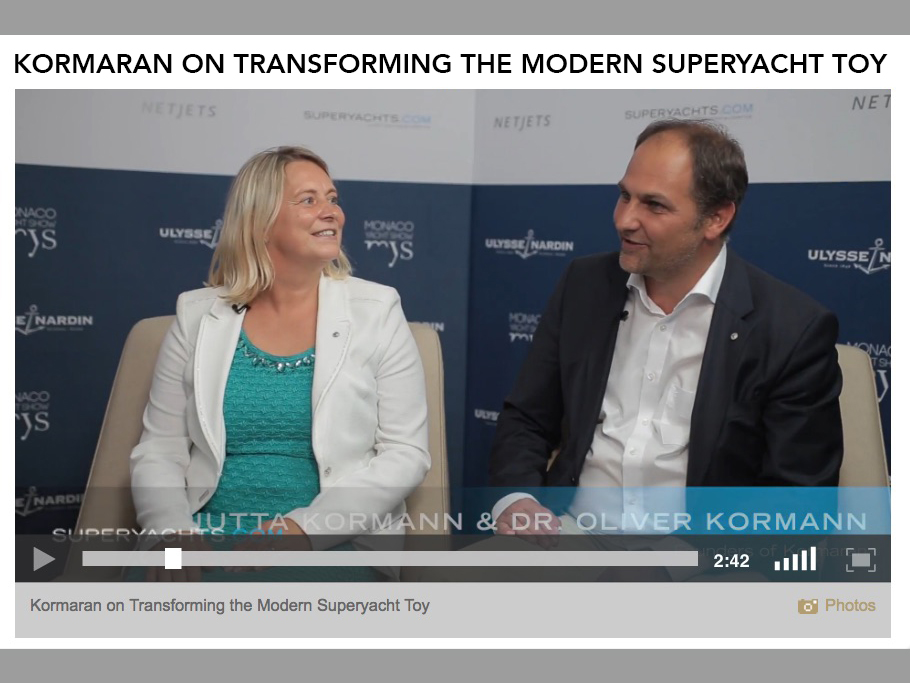 Kormaran on Transforming the Modern Superyacht Toy
At the 26th Annual Monaco Yacht Show in September Jutta and Oliver Kormann have been interviewed in the Breaking News Center of superyachts.com.
THE K7 ALWAYS PROVIDES AN EXCEPTIONAL APPEARANCE
Review of Monaco Yacht Show 2016